The learning path is one of increasing complexity, with building blocks to construct the Contactless EMV knowledge, and practical exercises and quizzes to keep students engaged.
This is the second of 3 modules that will take you on a path towards Contactless EMV expertise.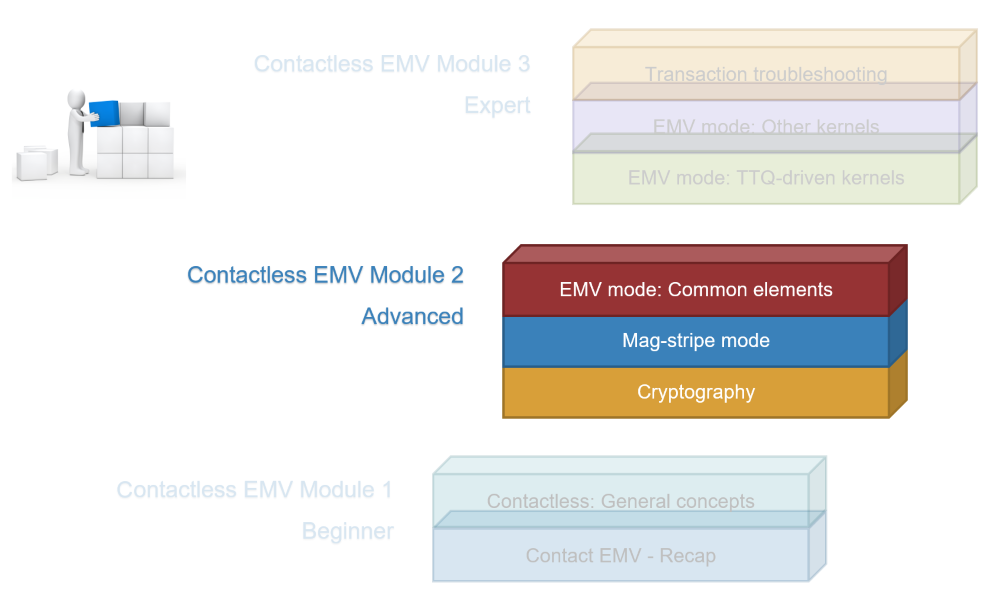 The Contactless EMV Module 2 course starts with a reminder of the cryptographic concepts that are still relevant for contactless, including transaction authorization and offline data authentication. It then introduces and looks into the technicallities of contactless transaction authorization for mag-stripe and EMV modes, and of how fDDA works.
The journey continues with a deep dive into contactless mag-stripe mode, from the high-level concept all the way to the APDUs involved and how terminals retrieve the magstripe track for the online authorization message. This chapter is supplemented with practical exercises.
This module ends with a look at the common elements of contactless EMV mode, introducing the high-level concept, discussing the Cardholder Verification Methods applicable to contactless, and reviewing the kernels' Outcome parameters.
Those constitute the building blocks needed to continue to the last module of the complete course.