The learning path is one of increasing complexity, with building blocks to construct the Contactless EMV knowledge, and practical exercises and quizzes to keep students engaged.
This is the last of 3 modules that will take you on a path towards Contactless EMV expertise.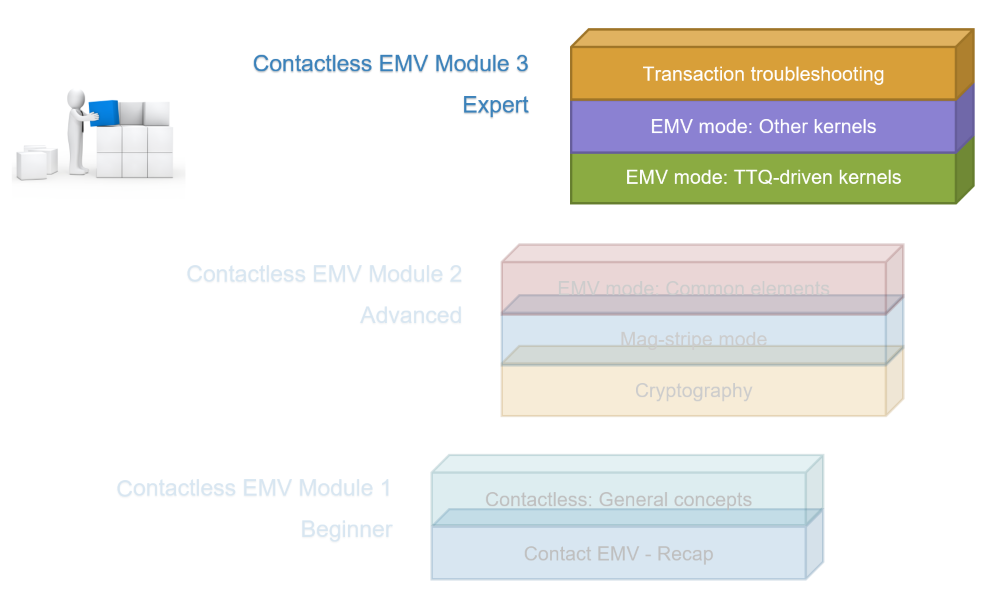 The Contactless EMV Module 3 course starts with a deep dive into the transaction flow and the APDUs for TTQ-driven kernels (VISA, Discover, UnionPay). It looks at the new tags introduced specifically for contactless, which help transactions be processed faster. It explains how CVM selection is performed on those kernels, and how processing restrictions are enforced. It also briefly looks at how issuer scripts can be processed on those kernels.
The course then provides similar coverage of the other kernels (MasterCard, American Express and JCB). The transaction flow and the overall process is different, and the course highlights those differences and takes the student through how the APDUs are used with those kernels to complete transactions.
In the final chapter, the course provides a guided method to perform transaction analysis and troubleshooting, which includes a couple of diagrams that the student can download and print. This method is based on the instructor's 10-year experience performing such analysis. The course also takes the student through 5 examples of contactless transactions being analysed with those troubleshooting diagrams.