This bundle will give you access to the 4 modules on EMV transactions.
With the ever-rising demand for EMV compliance and certification, there is a growing need for people with strong knowledge of the mechanics of EMV. This course was designed to help students with basic IT knowledge enter that space and fill the positions. It used to take months to become proficient with EMV, now it can be done in just 2 days.
EMV isn't really complicated, it's just difficult to approach. Specifications are a dry read, information is all over the place, and experts are too busy. The barrier to entry is higher than it should be, and this course was created to overcome that.
I've been working with EMV for 10 years, struggling for the first year until it started to make sense. Once you get to know it, once you know where everything is, you can see that it is very coherent and why it allows terminals all around the world to accept payments from cards from everywhere. A real marvel of interoperability.
This course was designed so that the next generation of EMV specialists do not need to waste time and energy getting their bearings. This course is based on my experience of taking many people through this path over the years. They say that you can't teach experience, and I'm certainly not claiming that, but there are approaches that can be taken to help students form logical paths in their minds. One such approach is PBL (problem-based learning), and this course makes heavy use of that for all the very technical parts, with practical exercises.
The course is constructed to take students with basic IT knowledge through a path that will lead to a very good understanding of how EMV transactions work and how to troubleshoot failing transactions. This is a technical course, and the path is one of increasing complexity: we build knowledge blocks through the chapters, and we rely on them to continue down the learning path. The course starts with high-level concepts, ensures that the students have a solid IT base for EMV, and then starts building all the EMV knowledge. The last 2 chapters have a large emphasis on transaction analysis, and I am providing diagrams for transaction analysis which are based on my 10 years' experience doing this kind of work.

Duration
The course contains about 6.5 hours of bite-size videos, split into relevant chapters, and exercises that should take between 7 and 10 hours altogether. You can think of it as a 2-day course with a highly experienced instructor, but more convenient because you can work at your own speed and on your own schedule.

Intended audience
The course was built with the following audience in mind: people who need strong EMV technical knowledge to be effective and efficient in their work. This includes roles in the following areas:

Payment terminal EMV certification
Payment terminal integration
Payment terminal development or quality assurance
Troubleshooting transaction failures for banks or acquirers
Chip card issuance
Chip card development or quality assurance
Consulting in any of the areas above
Unique learning approach
The learning path is one of increasing complexity, with building blocks to construct the EMV knowledge, and practical exercises and quizzes to keep students engaged. The complete course contains 20 practical exercises with the guided analysis of 50+ transaction logs.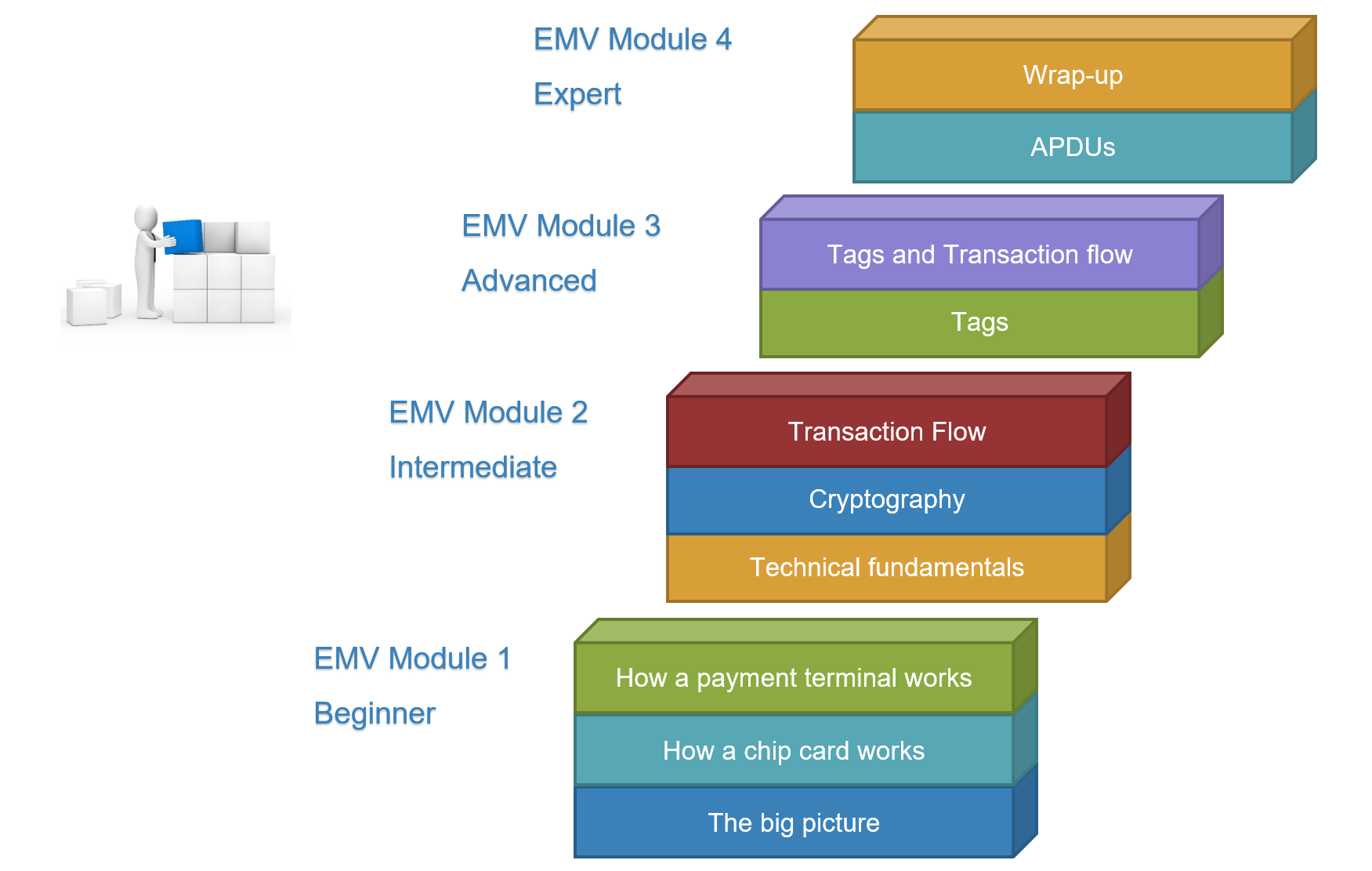 The EMV Module 1 course starts with the big picture: the non-technical, high-level information. Then students look at how a chip card works and at how a payment terminal works, because it is important to understand how they interact.
The EMV Module 2 course starts with some technical fundamentals; this is to ensure that students have a solid IT base for EMV, and is supplemented with practical exercises.
The course next takes a deep dive into the cryptography that is relevant to EMV; it is not trying to make the student a cryptography expert, but it is important to understand the problems that EMV is looking to solve, what solutions were chosen, and their impact on payment transactions.
The course then moves to the high-level transaction flow to see how the parts fit together.
The EMV Module 3 course starts with the technical understanding of how tags work. This is supplemented with practical exercises to help students master tag recognition and parsing, and make sense of the values.
The course then matches tags with transaction flow detailed in our Module 2, and explains the impacts that one can have on the other. Practical exercises create the mental links in students' mind to visualize this interaction.
The EMV Module 4 course explains in details all the APDUs – the EMV commands. This is where the rubber hits the road, where all this knowledge that will have been accumulated in the previous modules is turned into a communication between two devices, with all its complexity. In this chapter, students will go through the guided analysis of over 50 transaction logs, effectively seeing the vast majority of the points of failure in EMV transactions, and determining what caused them.
Finally, in the wrap-up session, the course shares diagrams for transaction analysis which are based on the instructor's 10 years' experience in this line of work. It also goes through the detailed analysis of several EMV transactions to bring all the chapters together, and to see which ones were successful, which ones failed, and the reasons for failure.
Your Instructor
I have a passion for helping people reach their full potential. As a strong believer of the concept of sustainable leadership, I can feel the pain of employees who cannot perform at their best because of the difficulty of knowledge transfer. In my previous role in product marketing for a very complex payment simulator, I was faced with bridging this knowledge gap on a regular basis. The payment industry is one where the barrier to entry is high, and it should not be this way because it hinders growth for everyone.
My most prized accomplishment in my career is the development of a formalized payment education program for South Africa, which has seen over a hundred students with IT backgrounds turned into payment experts able to proficiently operate our payment simulator. This was made possible thanks to many other education experiences, technical or process-oriented.
Because I am an INTJ in the Myers-Briggs model, you can be sure that the content of my courses is fully thought-out and takes into consideration all aspects needed to reach the targets. I am really good at putting myself in my students' shoes, to find the path that will take them from where they are to where they want to be.
Want to know more about my credentials?
During my 10 years of strong, technical experience in the card payment industry, I worked in development and QA for the two leading chip card manufacturers, Gemalto and Oberthur. I also held a position of security analyst for EMV products in a lab, which provided a deep understanding of the internal working of payment cards.
My longest position was with Acquirer Systems, a small company which created the best, and most complete, payment simulator on the market (it now belongs to UL). During that time, I held just about every position that there is to fill in a small company, doing software development, QA, customer support, then moving to consulting, pre-sales and education. I built a complete library of deep, technical knowledge in all aspects of card payment transactions, from the card in your pocket to the authorization by the banks.
I am also fully qualified for the positions I have held until now, and fully prepared for the challenges of the future. I hold an MSc in engineering from a French college, and an Executive MBA from Trinity College Dublin.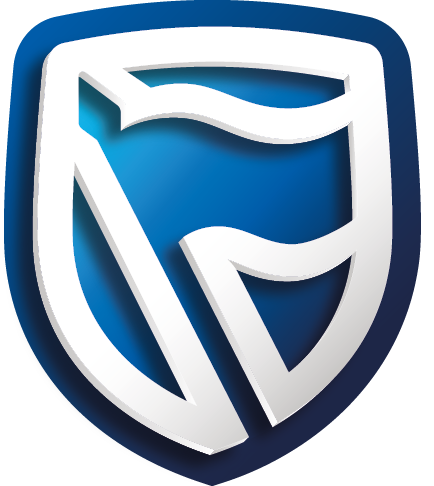 Testimonial
"The training course is absolutely brilliant.
The way it is structured allows the trainee to complete the course at his own pace, which means that you can take the necessary time to adjust to EMV concepts that are fairly complex.
My team member, Bala, was put on the course, having started working in my team recently with no previous EMV experience. My team performs technically complex EMV Certifications with the various Associations. Experience has shown that the average time it takes for a person to be self-sufficient at doing EMV Certifications is approximately 8 to 12 months.
Bala was able to run his own EMV Certification projects with minimum supervision within 3 months and the expectation is that he will be fully independent within the next 6-8 weeks.
This turnaround time towards EMV competence is really remarkable and definitely as a result of the training program offered by PayTech Academy.
I will readily recommend it, and will insist that all new people joining my team going forward undertake the training as a mandatory requirement. Keep up the good work."
- Magan Pillay, Team lead, EMV Acquirer Certifications, Standard Bank South Africa
Courses Included with Purchase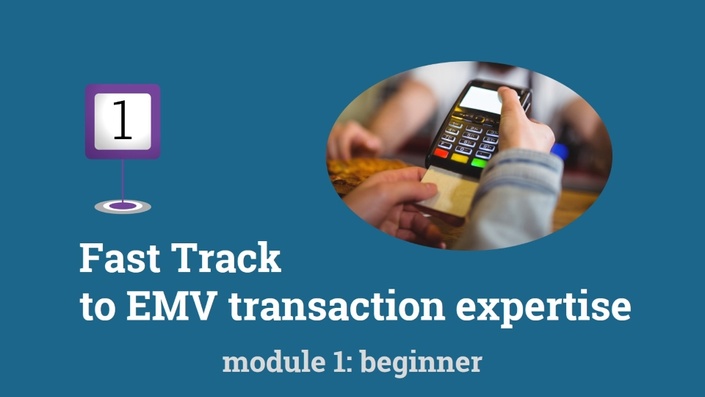 EMV Transactions: Module 1 - Beginner
Learn how payment chip cards and terminals work.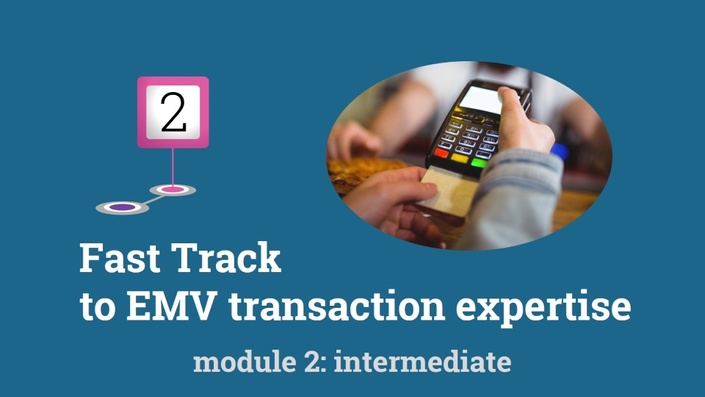 EMV Transactions: Module 2 - Intermediate
Learn about cryptography and the EMV transaction flow.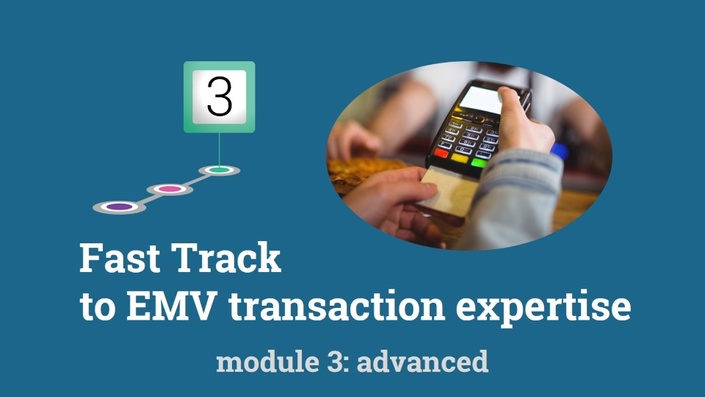 EMV Transactions: Module 3 - Advanced
Learn about EMV tags and how they impact the transaction flow.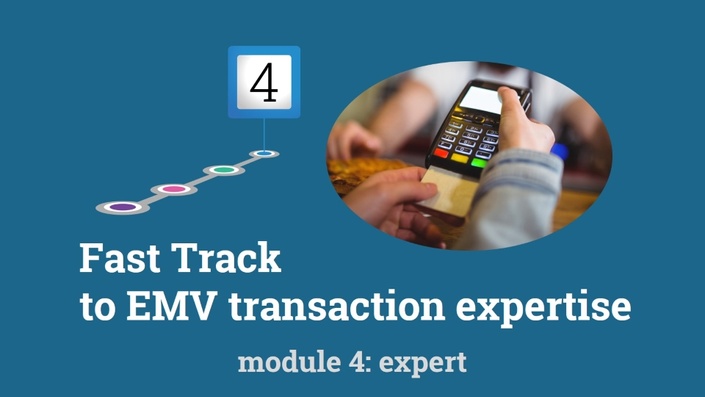 EMV Transactions: Module 4 - Expert
Learn about APDUs and transaction troubleshooting.
Reviews
"Great Course

The PayTech Academy 'Fast Track to EMV' online training course is very high quality. I would recommend it to anyone who is starting to implement EMV or anyone who has an operational touchpoint with EMV in their day to day activity regardless of where you sit in the EMV transaction flow, Merchant/POS, Acquirer host or Issuer and all in between.
The course content is delivered in a method which is very easy to understand and is broken out into logical chapters, so regardless of your previous experience within the Payments or EMV sphere you will learn a lot from this course. Most of the training videos are 5-10 minutes long which are ideal as you can dip in and out of the course as time permits and work through it at your own pace.
Taking this course will arm you with sufficient knowledge to take a proactive role in EMV certifications and troubleshooting issues that may arise in both the test and live environments."
Paul Conroy, Product Owner at Fexco OpenConnect
"Fantastic Course
I found the training to be extremely helpful, how the training is setup It allows you to complete the course in your own time and get a better understanding of the EMV end to end process. The course can help any one who is starting up in EMV and have a clear understanding of what is required and what the outcome is for every requirement."
Hammilton Monareng, Test Analyst at Diners Club

"Excellent course
Before the course, I did not know much about EMV transactions, but this course was so well put together that it was able to provide me with the essential information to work with confidence in EMV transactions. It really fast tracked my EMV knowledge and I would highly recommend it to anybody starting with EMV or would like to get a better understanding of EMV transactions."
Walter Senekal, Senior Developer at Altech Card Solutions