The learning path is one of increasing complexity, with building blocks to construct the EMV knowledge, and practical exercises and quizzes to keep students engaged. The complete course contains 20 practical exercises with the guided analysis of 50+ transaction logs.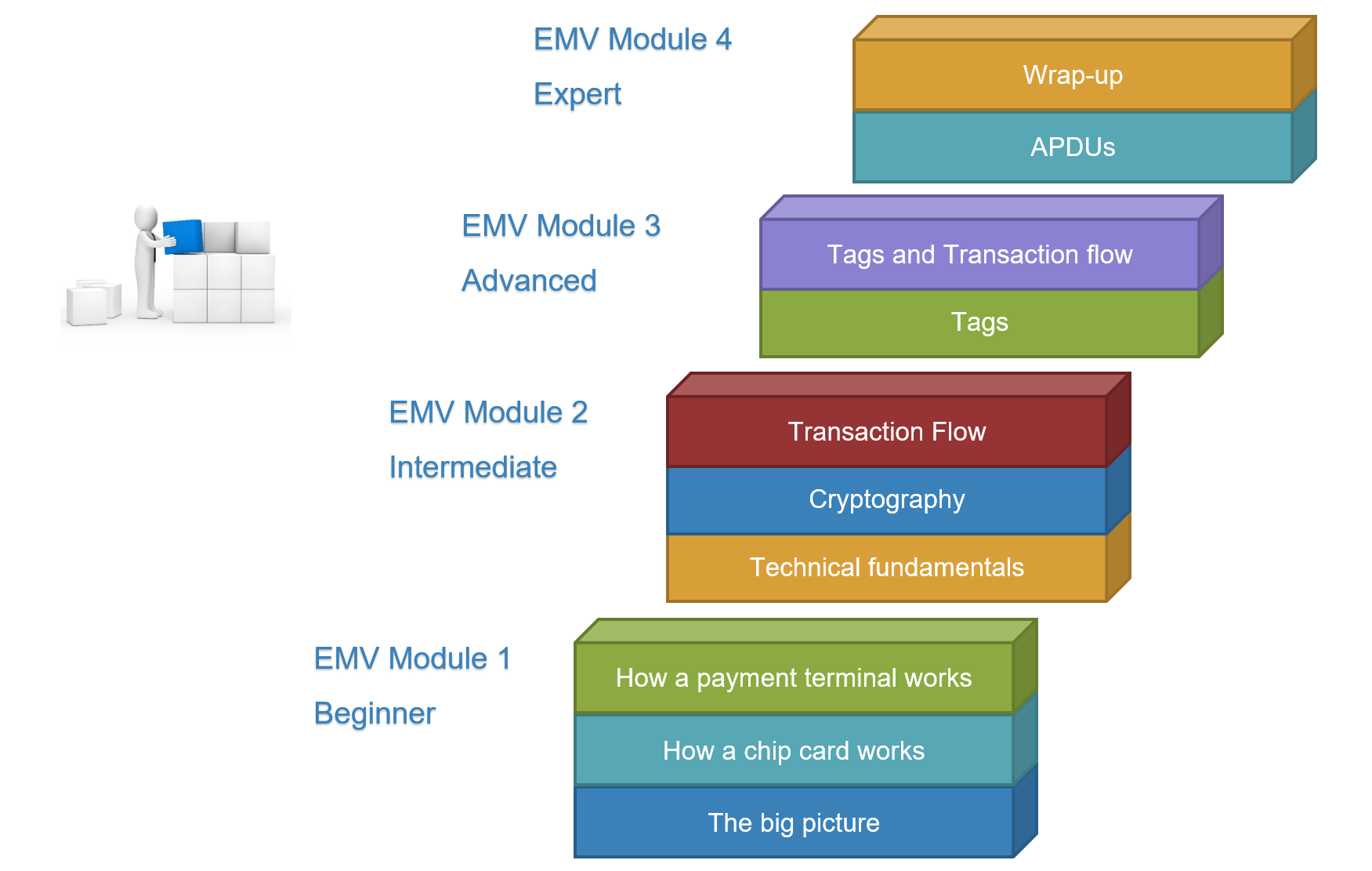 The EMV Module 1 course starts with the big picture: the non-technical, high-level information. Then students look at how a chip card works and at how a payment terminal works, because it is important to understand how they interact.
The EMV Module 2 course starts with some technical fundamentals; this is to ensure that students have a solid IT base for EMV, and is supplemented with practical exercises.
The course next takes a deep dive into the cryptography that is relevant to EMV; it is not trying to make the student a cryptography expert, but it is important to understand the problems that EMV is looking to solve, what solutions were chosen, and their impact on payment transactions.
The course then moves to the high-level transaction flow to see how the parts fit together.
The EMV Module 3 course starts with the technical understanding of how tags work. This is supplemented with practical exercises to help students master tag recognition and parsing, and make sense of the values.
The course then matches tags with transaction flow detailed in our Module 2, and explains the impacts that one can have on the other. Practical exercises create the mental links in students' mind to visualize this interaction.
The EMV Module 4 course explains in details all the APDUs – the EMV commands. This is where the rubber hits the road, where all this knowledge that will have been accumulated in the previous modules is turned into a communication between two devices, with all its complexity. In this chapter, students will go through the guided analysis of over 50 transaction logs, effectively seeing the vast majority of the points of failure in EMV transactions, and determining what caused them.
Finally, in the wrap-up session, the course shares diagrams for transaction analysis which are based on the instructor's 10 years' experience in this line of work. It also goes through the detailed analysis of several EMV transactions to bring all the chapters together, and to see which ones were successful, which ones failed, and the reasons for failure.