ISO8583 and Transaction Processing: Full course
Become an expert in ISO 8583 protocols, no prerequisites.
Watch Promo
This bundle will give you access to the 4 modules on ISO 8583 and Transaction Processing.
Transaction processing can be difficult to approach. There is not much information freely available, and you need much more than access to a specification or a norm to get started. The worst kept industry secret is that there is no such thing as "the" ISO 8583 protocol. To start with, there are several versions of that norm. But more importantly there are only protocols which are based on ISO 8583, and which use the norm to support business requirements, with implementation choices.
Back when I worked on the ASTREX payment simulator, we used to support over 50 ISO 8583 protocols, from payment networks, payment switch providers, acquirers and so on. It makes for a messy reality, but with the right guidance this course will help you navigate through this maze.
This course was designed so that the next generation of payment specialists do not need to waste time and energy getting their bearings. This course is based on my experience of taking many people through this path over the years. They say that you can't teach experience, and I'm certainly not claiming that, but there are approaches that can be taken to help students form logical paths in their minds. One such approach is PBL (problem-based learning), and this course makes heavy use of that for all the very technical parts, with practical exercises.
The course is constructed to take students with basic IT knowledge through a path that will lead to a very good understanding of how payment transactions get processed.

Duration
The course contains 10 hours of bite-size videos, split into relevant chapters, and exercises that should take between 22 and 27 hours altogether. You can think of it as a 3- or 4-day course with a highly experienced instructor, but more convenient because you can work at your own speed and on your own schedule.

Intended audience
The course was built with the following audience in mind: people who need strong, technical, payment transaction processing knowledge to be effective and efficient in their work. This includes developers, QA, customer support and managers in the following areas:
Acquirer host
Payment processor switch
Issuer host
Payment terminal integration
Troubleshooting transaction failures for banks or acquirers
Chip card issuance
Consulting in any of the areas above
Unique learning approach
The learning path is one of increasing complexity, with building blocks to construct the ISO 8583 knowledge, and practical exercises and quizzes to keep students engaged. The complete course contains 22 practical exercises for the guided parsing and analysis of many messages.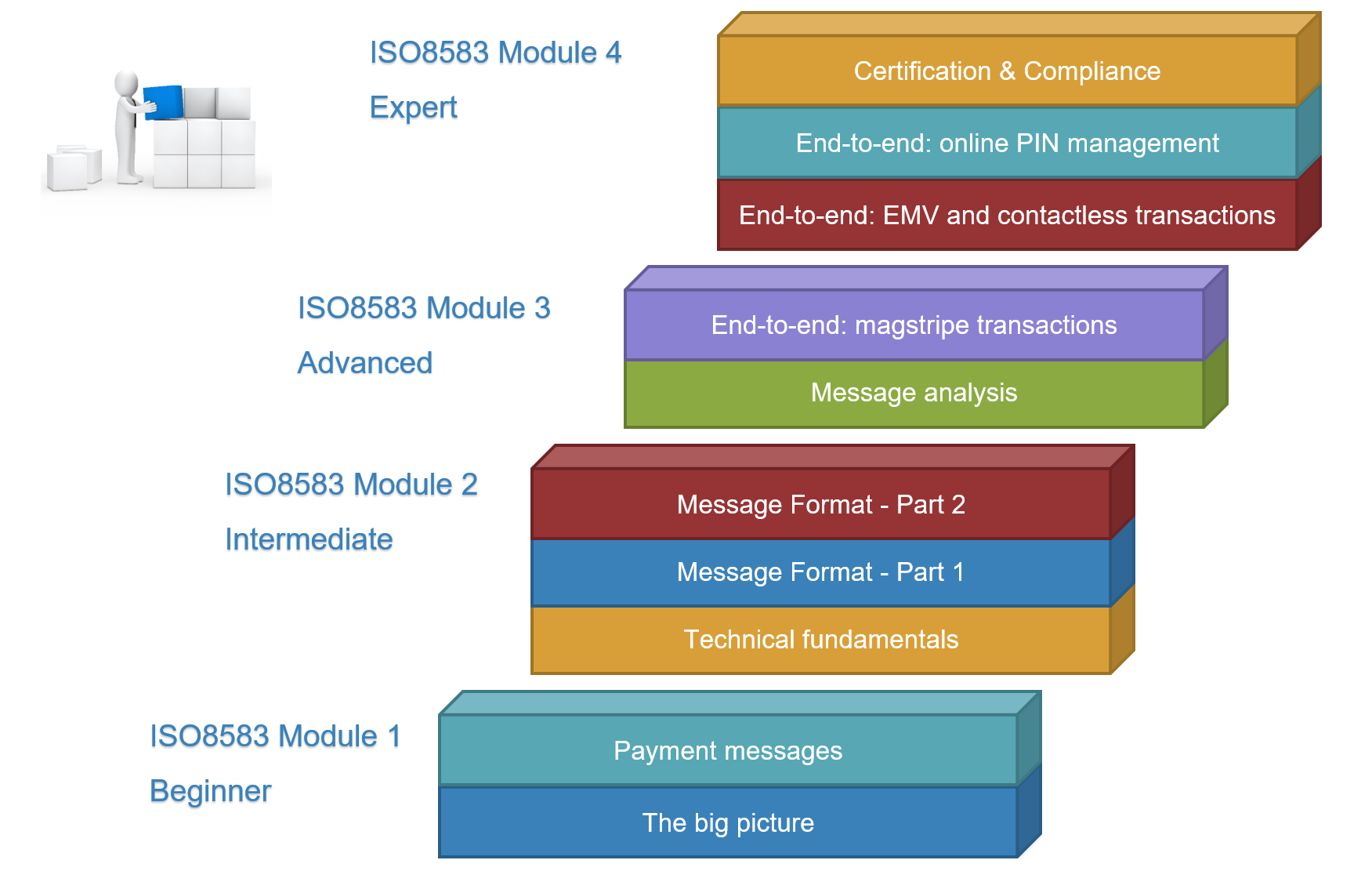 The ISO8583 Module 1 course starts with the big picture: the non-technical, high-level information. Then students start their journey into the technical aspects of ISO 8583 with an overview of how messages are structured, followed by a course on Message Type Identifiers and explanations on transaction flows.
The module finishes with a high-level view of how EMV and contactless transactions work, as well as how online PIN is processed.
The ISO8583 Module 2 course starts with by some technical fundamentals; this is to ensure that students have a solid IT base for ISO 8583, and is supplemented with practical exercises.
The module then covers bitmaps and length and format indicators. Those courses are supplemented with practical exercises so that students can apply those concepts.
The journey continues with an in-depth review of all the ISO 8583 data elements, looking at the 1987 and 1993 norms and at how they are used in practice in the industry. This is also supplemented with practical exercises, to help students grasp how those data elements are structured. The capstone of this review is a course on message parsing, where students learn how to extract information from a raw ISO 8583 message, and perform parsing themselves. And the in-depth journey on ISO 8583 finishes with explanations on data element presence in messages.
The ISO8583 Module 3 course zooms out of the low-level structure of ISO 8583, and teaches students how to perform analyses of individual messages, starting with network management messages, really focusing on authorization request messages, and also looking at authorization advice, financial messages, and reversals. Practical exercises with many different transaction samples are provided to help the student construct real experience on message analysis.
The course then zooms out once more, and looks at the transactions from end to end. It follows ISO 8583 messages as they are generated by a payment terminal all the way to their authorization by a card issuer, going through the different message conversion processes, where the student can see the data elements that are converted, removed and added as the message is processed by each actor of the payment chain and potentially changes version of ISO 8583. Magstripe and contactless magstripe are covered.
The ISO8583 Module 4 course looks at contact EMV and contactless EMV transactions from end to end. It follows ISO 8583 messages as they are generated by a payment terminal all the way to their authorization by a card issuer, going through the different message conversion processes, where the student can see the data elements that are converted, removed and added as the message is processed by each actor of the payment chain and potentially changes version of ISO 8583.
The course then focuses on online PIN, where the student can see the hidden complexity that surrounds online PIN, follow a full end-to-end online PIN transaction with the different HSM calls, and learn how dynamic key exchange is handled by the different systems.
The course concludes on the difference between brand compliance and certification, how they work and what is expected by the brands.
Your Instructor
I have a passion for helping people reach their full potential. As a strong believer of the concept of sustainable leadership, I can feel the pain of employees who cannot perform at their best because of the difficulty of knowledge transfer. In my previous role in product marketing for a very complex payment simulator, I was faced with bridging this knowledge gap on a regular basis. The payment industry is one where the barrier to entry is high, and it should not be this way because it hinders growth for everyone.
My most prized accomplishment in my career is the development of a formalized payment education program for South Africa, which has seen over a hundred students with IT backgrounds turned into payment experts able to proficiently operate our payment simulator. This was made possible thanks to many other education experiences, technical or process-oriented.
Because I am an INTJ in the Myers-Briggs model, you can be sure that the content of my courses is fully thought-out and takes into consideration all aspects needed to reach the targets. I am really good at putting myself in my students' shoes, to find the path that will take them from where they are to where they want to be.
Want to know more about my credentials?
During my 10 years of strong, technical experience in the card payment industry, I worked in development and QA for the two leading chip card manufacturers, Gemalto and Oberthur. I also held a position of security analyst for EMV products in a lab, which provided a deep understanding of the internal working of payment cards.
My longest position was with Acquirer Systems, a small company which created the best, and most complete, payment simulator on the market (it now belongs to UL). During that time, I held just about every position that there is to fill in a small company, doing software development, QA, customer support, then moving to consulting, pre-sales and education. I built a complete library of deep, technical knowledge in all aspects of card payment transactions, from the card in your pocket to the authorization by the banks.
I am also fully qualified for the positions I have held until now, and fully prepared for the challenges of the future. I hold an MSc in engineering from a French college, and an Executive MBA from Trinity College Dublin.
Courses Included with Purchase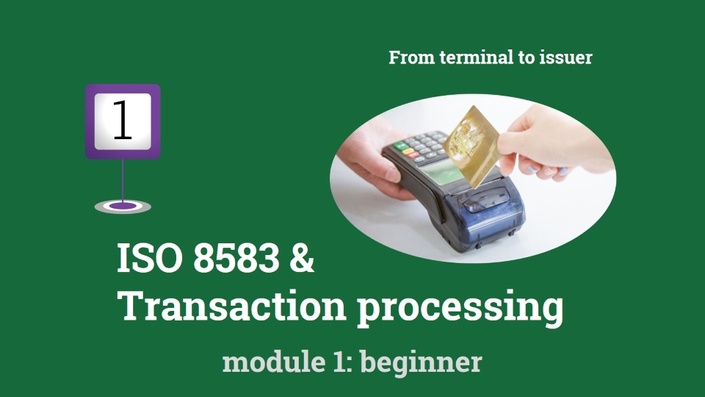 ISO8583 and Transaction Processing: Module 1 - Beginner
Learn about the different message types and their processing flow.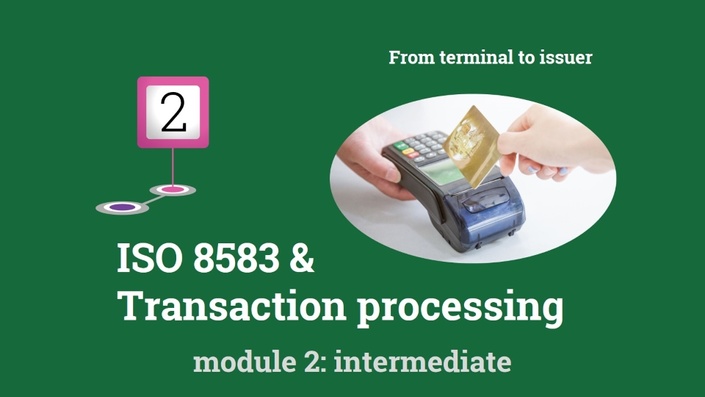 ISO8583 and Transaction Processing: Module 2 - Intermediate
Learn how and when the different ISO fields are used.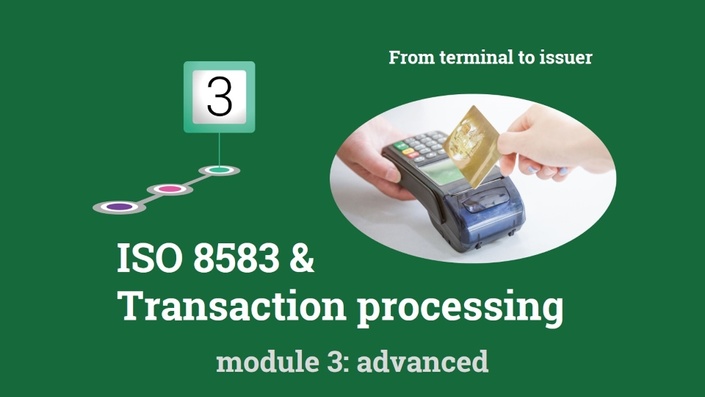 ISO8583 and Transaction Processing: Module 3 - Advanced
Learn how to analyse payment messages and how follow a magstripe transaction from end to end.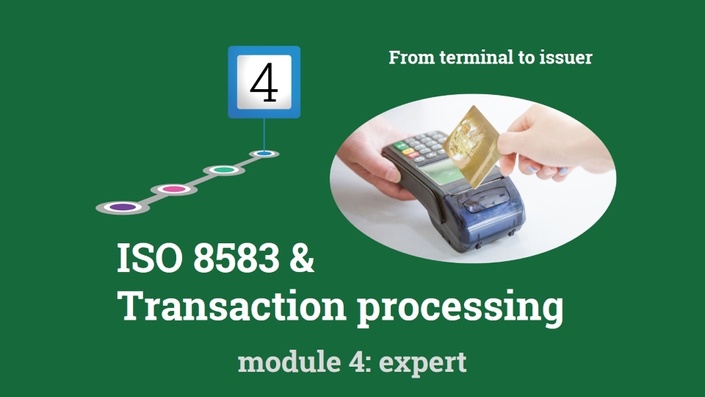 ISO8583 and Transaction Processing: Module 4 - Expert
Learn how to follow transactions with EMV, contactless and online PIN, and see how certification works.
Reviews
"It has been an incredible opportunity having to do the ISO 8583 ONLINE TRAINING, It was user friendly and straight to the point, easy to understand and it included very relevant information needed when working with ISO. I highly recommend that this course becomes a basis for all users of ISO, purely because of the content that touches on each and every 'element '(no pun intended) of the system. I enjoyed the interactive voice over that made it easier for me to understand as I am more of a listener than a reader"

Justine Naidoo, Junior EMV Specialist in Standard Bank South Africa

"Transaction processing

Before taking this course, i had a little knowledge about transactions flow and processing from the merchants terminal to the card issuer and the parties involved.
This course made it easy for me to understand the processing of transaction within our company. with the help of this course, now i know the different message types, ISO 8583 message layout, fields and their meaning, different ISO 8583 message protocols. Without this course it would take me a year or so to understand the general flow of transactions from the Terminal to the issuer.
I would recommend this course to anyone who works in Payment industry, it is easy to follow and understand."
Mphikeleli Zwane, Software Developer at Altech Card Solutions

"Excellent Course

The content of the course is precise, hitting the main points and provides complete information on each of the topics presented. I never once had to refer to an external information source such as Google to help me understand a concept from the course. Secondly, for such a highly complex topic such as transaction processing, the course was presented in such a simplified manner that I quickly understood all the concepts being presented.
The videos are also well narrated and in sync with the text that is displayed on the screen. The narration voice is clear, and the pace of narration is the right speed. I found it very easy to follow along; coupled with the fact that I could easily pause and reverse anytime I needed to get a topic better. The slides also have the right amount content, not too less or too crowded. The simulations also helped me to get a clear picture of the topics being presented.
I also viewed the course videos a few times using my mobile phone and the experience was equally great.
The exercises provided for download really helped me to get a stronger grip of the topics. The course material provided at the beginning also served as a reference material every time I could not go online to do the course."
Innocent Oketayot, Systems Administrator-Finance Trust Bank, Uganda