Our offering
Our offering is two-fold.
On the one hand, we offer introductory courses. Those courses are for everyone. Technical people, managers, executives, and anyone new to the industry.

And on the other hand, we offer expert-level courses on very focused areas. You can think of them as zero-to-hero courses. The goal is to take someone with basic IT knowledge and put them on a fast track to becoming an expert on a specific topic.
Course map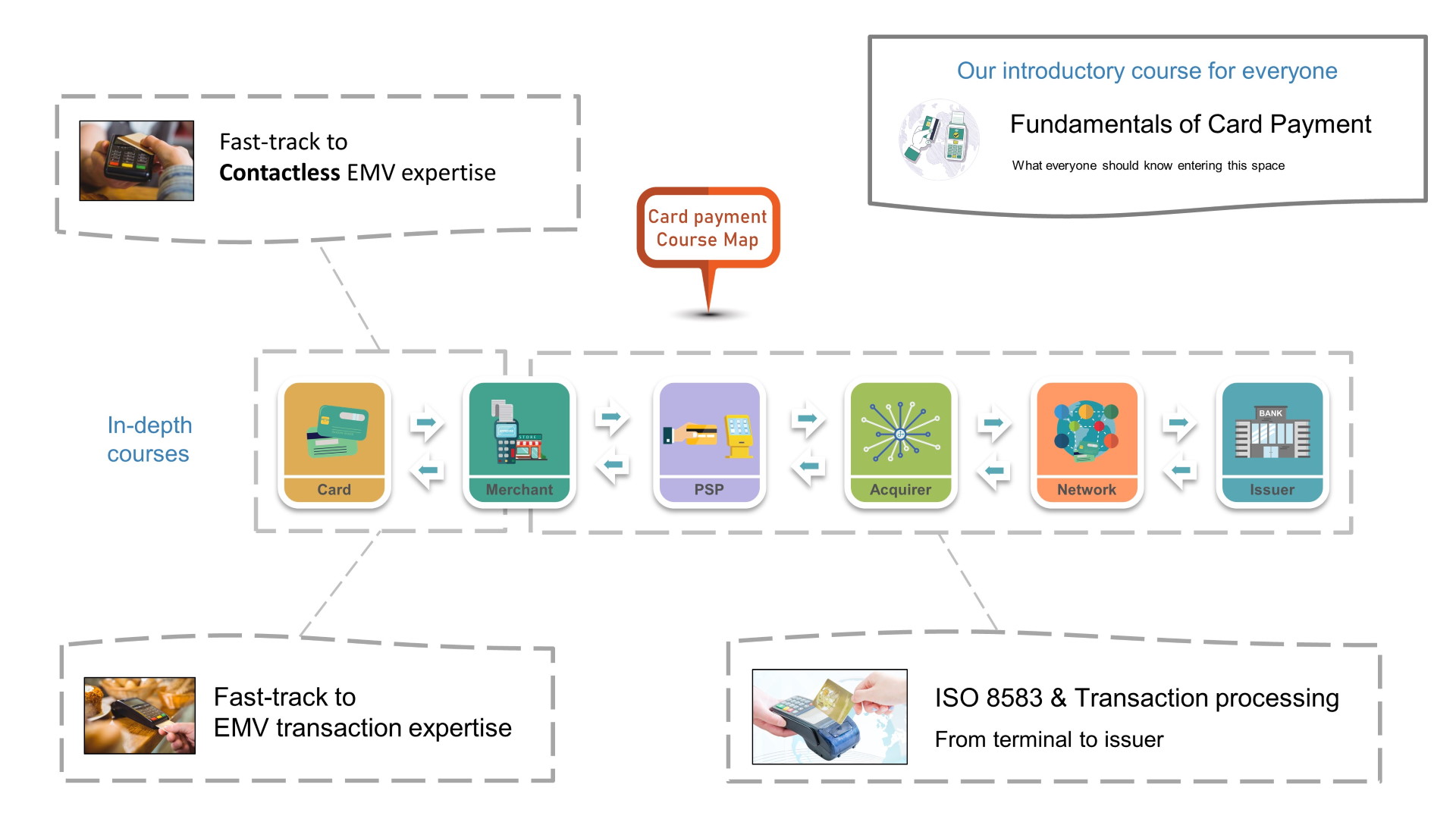 At the top-right corner is an introductory course, for everyone.
The "Fundamentals of card payment" course teaches what everyone should know when entering this space, from who does what, to the kind of equipment involved, to the challenges of transacting on a global scale.

Then in terms of in-depth courses, we currently have 2 courses that deal with the interaction between the payment card and the terminal or ATM.

The "Fast-track to EMV transaction expertise" course (bottom-left) covers everything that one should know about contact transactions (Chip and PIN and so on), taking someone with basic IT knowledge to be able to troubleshoot EMV transactions.

And the course at the top-left corner, "Fast-track to contactless EMV expertise", is the contactless extension, taking someone with EMV knowledge to be able to troubleshoot contactless transactions.

And finally, the "ISO 8583 and Transaction Processing" course covers the authorization process for payment transactions, also taking someone with basic IT knowledge to a level where they can diagnose failing authorizations.

In effect, our expert-level courses cover the complete transaction life-cycle.
Why this academy?
PayTech Academy was created to give everyone a chance to one day become an expert in the payment technology industry.

We understand that access to experts is difficult, even when you work in the same company, because those skills are rare and make those people extremely busy.

Our aim is to provide the world with hands-on courses that take our students from where they are to a level of deep technical understanding in very specific areas. Our approach is to build knowledge block by block, while keeping students engaged and allowing them to form the mental links required to become an expert.For this, we augment our education with well-crafted practical exercises and quizzes.
Get in touch!
Have questions? We'd love to chat with you!